June 2020 Special Edition
---
With this special edition we focus on amplifying Black voices and African American experiences through literary words and artistic expressions in children's and young adult books.
As author Kwame Alexander said at last week's KidLit Rally for Black Lives: "There is a knee on the neck of Black America." Today and every day, TeachingBooks stands in solidarity with Black Americans who face prejudice, injustice, violence, and even death.
We respond to the intolerable systemic racism in our society, and the murders of George Floyd, Tony McDade, and Breonna Taylor, with the most relevant action that TeachingBooks can — access to resources that personalize and deepen everyone's connections to anti-racist books and authors. We commit to offering materials that model representation and diversity in the curriculum. We want every student to have a safe space to celebrate differences and have meaningful conversations about racism and humanity.
In that light, we offer the following: Jason Reynolds' 2017 post where he poignantly writes about the silencing of Black dialects and culture. We have over 4,800 materials on the 313 books that have been recognized by the Coretta Scott King Book Awards. And, we recognize the multiplicity of African American experiences with interviews and booklists that support anti-racism to further your awareness and contemplation of exceptional children's and young adult books.
Nick Glass
Founder & Executive Director
TeachingBooks & Book Connections
nick@TeachingBooks.net
---
Jason Reynolds on Honoring Black Dialect and Voice
As protesters raise their voices, we return to this 2017 blog post by Jason Reynolds in which he advocates respect for African American voices as expressed through dialects. Reynolds discusses language as an expression of history and culture, and the consequences of our attitudes towards the way people speak.
Read Jason Reynolds' blog post
---
Virtual Teaching Ideas for the Black Lives Matter Movement, Police Brutality, and Social Justice Activism
Here are specific resources about books and authors to encourage reflection and engagement around these pertinent topics of today. This page is designed as a "cut & paste" to make it easy to forward the resources to students, families, and colleagues.
Explore Virtual Teaching Ideas for the Black Lives Matter Movement
---
Black Lives Matter: Resources to Support the Conversation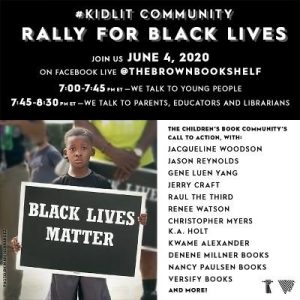 Here are podcasts, interviews, booklists, and organizations that promote diverse and underrepresented voices through literature and educational connections, including a link to the #KidLit4BlackLives rally.
Read Black Lives Matter: Resources to Support the Conversation
---
Ilyasah Shabazz and Kekla Magoon on X: A Novel
Listen to co-authors Ilyasah Shabazz (Malcolm X's third daughter) and award-winning author Kekla Magoon share their inspiration for writing X: A Novel (Candlewick, 2016). From this recording we get to hear about Malcolm X as a teenager, and why this story is relevant for today's youth.
Listen to this Meet-the-Author Recording
---
Lesa Cline-Ransome on Leaving Lymon
Lesa Cline-Ransome continues to lend an authentic voice on the black experience with her recent release Leaving Lymon (Holiday House, 2020), a companion novel to the Coretta Scott King Honor Book Finding Langston.
Join the Virtual Book Tour and read more
---
Angela Joy on Black is a Rainbow Color
Angela Joy's picture book debut Black is a Rainbow Color (Roaring Brook Press, 2020) features a young black girl thinking about what it means to be black, to be seen, to be part of a rainbow, and to be part of a history. The poetic prose reveals strength, resilience, and belonging.
Listen to Angela Joy on the Children's Book Podcast
---
African American Experiences in Children's Books: A Literary Reference Guide
Help young people understand the historical context of racism and oppression that has led up to the current moment. This list of 140 children's book titles from School Library Journal reflects on the African American experience through history.
Go to the African American Experiences booklist
---
#OwnVoices: The Coretta Scott King Book Awards, 1970-2020
The Coretta Scott King Book Awards annually select distinguished books for children and teens that appreciate African American culture and universal human values. Written and illustrated by African Americans, these books exemplify #OwnVoices. Use this TeachingBooks collection to both identify and personalize connections to these award-winning books with more than 4,800 resources.
Explore The Coretta Scott King Book Awards on TeachingBooks
---
Email not displaying correctly? View in browser
TeachingBooks | 608-257-2919 | accounts@TeachingBooks.net
100 River Place, Suite 250 | Madison, WI 53716
Follow us on social media:
In striving to enrich the lives of all readers, TeachingBooks supports the First Amendment and celebrates the right to read.