November 2019 Edition
---
Got Books? Have Resources!
Within seconds, now you can scan the books in your hands, and have a curated collection of resources about those very books and authors.
In your library, when giving books to a teacher or student, that person leaves the library not only with books, but with resources.
In a classroom, the teacher can scan the ISBNs of their personal library, and send home for each student and family a QR bookmark with a digital display of the titles, along with materials that bring these books to life.
Go to TeachingBooks.net
Plug in your USB scanner
Put the cursor in the search box, and then scan an ISBN
Select + to build a Custom Reading List
Name the list, and then scan all the books you wish
Save the list, and then share via email, flyer, bookmark, or more.
Comments or questions? Let me know.
Nick Glass, TeachingBooks Founder & Executive Director
nick@TeachingBooks.net
---
Behind the Books - Little Women: The Impact of a Classic
Jan Turnquist, the executive director of Orchard House, writes about her work at Louisa May Alcott's house, how important Little Women is to her and to so many others while the new movie brings this beloved story to life.
Read Jan Turnquist's Guest Blog Post now.
---
Meet-the-Author Recording: Thank You, Omu!
Sharing a meal is a wonderful way to build community. Listen to Oge Mora tell how her memories of her grandmother's generosity in welcoming everyone to her table inspired Thank You, Omu! (Little, Brown 2018) in our featured Meet-the-Author Recording.
Browse all titles that have TeachingBooks Meet-the-Author Recordings.
---
Featured Booklist: Publishers Weekly's Best Children's Books of 2019
Is it already time to look back on books published in 2019? Publishers Weekly thinks so. They've released their lists of Best Children's Books of 2019, and we've gathered instructional resources for all of them, from preschool through young adult. View Publishers Weekly's Best Children's Books of 2019 on TeachingBooks.
---
Essential Elements Webinars
45 minutes each: Master the essential elements of TeachingBooks.
Make Your Library Talk with TeachingBooks Resources
November 19

TeachingBooks: Set up TeachingBooks for Success & Training
November 25
Don't worry if you can't attend live. Sign up and receive a recording.
---
From the TeachingBooks Blog: Author Inspiration for Your Makerspace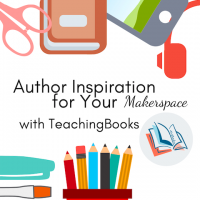 Just as author Barney Saltzberg of Beautiful Oops! shares, we can find inspiration in surprising places. What better way to infuse literacy into your makerspaces than to take inspiration from the authors, illustrators, and books themselves!
Read more on the TeachingBooks Blog.
---
TeachingBooks is Hiring
TeachingBooks is hiring a Technical Services, Collection Development Librarian with a professional interest in working with metadata specific to children's/ YA titles, authors, awards, distinctions, series, lists, and reading programs. A commitment to diversity and Intellectual Freedom is vital, too.
This is a full-time position with a competitive salary and benefits that can be based anywhere in the United States.
Details are at https://TeachingBooks.net/TSL
---
Contests & Giveaways
Check out our November Contests & Giveaways, accompanied by multimedia resources!
Birdsong by Julie Flett
Ordinary Hazards by Nikki Grimes
Hobgoblin and the Seven Stinkers by Kyle Sullivan
High Five to the Hero! by Vita Murrow and Julia Bereciartu
See the November Contests & Giveaways on our blog.
---
Email not displaying correctly? View in browser
TeachingBooks | 800-596-0710 | accounts@TeachingBooks.net
4510 Regent Street, Suite 2A | Madison, WI 53705
Follow us on social media:
In striving to enrich the lives of all readers, TeachingBooks supports the First Amendment and celebrates the right to read.